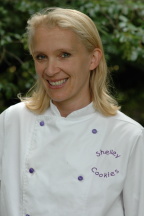 Michele Harper the founder of Cookies – 10 years of messy, sticky and wonderful fun working with children.
Michele has plenty of hands-on experience having worked in busy restaurants and with a family of her own. Originally trained as a chef she has continued to gain various cooking and catering qualifications. More recently she has focussed her studies with the Open University on diet and nutrition with a particular interest in the promotion of healthy eating.
She works in schools and nurseries running healthy-eating workshops and cookery clubs, tailoring these activities to the school's curriculum to enhance children's learning and understanding of food – always with a sense of humour and tons of enthusiasm.