MUSH EM, MASH EM, SQUIDGE EM, SLICE EM, DICE EM!!!
However you like yours they are a very versatile veg and one of our staples. You may think that these critters are rather boring and mundane but oh no we have a huge variety of spuds to choose from. Coming up in April/May will be the new spuds and we are so very neglectful of the many varieties of potatoes available. Have you ever tried a pink Fir Apple? Imported from France in 1850 they are my favourite. They are truly a wonderfully delicious new potato, best cooked whole with skins on – advantage of skins is tons of goodness and fibre. Potatoes are quite easy to grow, available all year round and lend themselves to a variety of flavours that you can add to them including herbs, garlic, cheese and veggie bubbles as in bubble and squawk (as I like to call it). By the way you don't have to just use cabbage in squawk – there is all sorts you can use, but we will save that for another day. Now is the time to get planting if you like to grow your own, they are easy peasy to grow and you can get the children involved. If you haven't got a lot of space you can buy special potato pots to grow them in. Home grown are delicious and without the chemicals.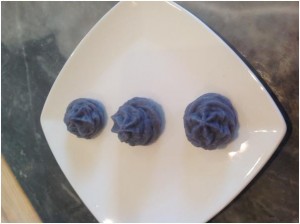 Are your kids like mine? Do they like to make pink mash potato with ketchup?  Well how about blue/purple coloured mash, not GM modified and do away with the ketchup bottle. Surprise your kids and watch their faces while you dollop some purple mash on their plates. Keeps them on their toes and gives them a new experience- nature's  magical colours!