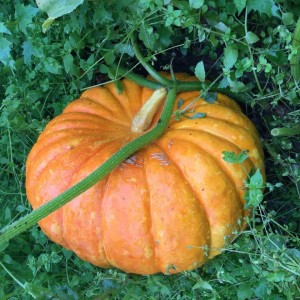 Pumpkins are fully in season now but they're not just for carving into scary faces. I spoke to Jakki Harriman, our local pumpkin expert and super-mum of five.
Jakki and Robert planted the first seeds just 3 years ago and every year since then the pumpkins have grown in size, variety and number.
"We now sell a large range of pumpkins at Christmas Tree Farm Chesham. Our traditional Halloween pumpkins are available in a range of sizes from the tiny munchkin variety to very impressive large ones and in a variety of colours. In addition, we also sell Rouge VIF D'Etampes, Baby Bear and Becky Pumpkins which make much better "eating" and Crown Prince squash which are superb tasting and highly recommended by celebrity chefs such as HughFearnley Whittingstall and Nigella. All of our pumpkins are homegrown by ourselves on our farm just four miles outside of Chesham."
It really is a family affair with not only Jakki and Robert working on them but their children and Grandad mucking in too especially at 'planting in' and harvest time when its all hands on deck.
Jakki also told me about her favourite pumpkin recipes…
"My favourite variety to cook with are the completely delicious Crown Prince squash with their mysterious blue steely skin hiding their attractive smooth, creamy orange flesh. I often make Delia's melting cheese pumpkin soup and Hugh Fearnley Whittingstall's pumpkin and lentil pasties with Crown Prince which Robert loves to find packed in his lunch box while he's out working around the farm. But based on pure looks I would have to say that our Rouge VIF D'Etampes pumpkins are second to none, glorious bright red in colour they add some glamour to your doorstep or porch in the Autumn time".
Pumpkins are like natures answer to tinned food and it is easy to see why the first settlers in America were so fascinated by them. Harvested well and in time with as long a stalk (handle) as possible and then stored in a cool dry, dark room or cupboard they can keep for up to 4 months, enough time to help you through the winter.