Having spent some time with these lovely ladies I learned a lot from them. They really care about the children they are cooking for and want to create something tasty so that the children will enjoy and get the maximum benefit nutritionally and in the taste department. At CPS a lot of them are mothers or grandmothers and this caring, motherly instinct comes through in their everyday cooking in school. And the same as every mother they try to ensure that the children have a good balanced meal, including eating up all their veg! This ethos of happy and healthy eating runs through the very heart of Chesham Prep school enhanced by the passionate beliefs of the Headmaster and his wife Isobel Davies and including the teachers who try their very best to have a positive attitude with food. To create a more positive view of food it is very important as adults that we ourselves do not use negative words associated when talking to children about food.   
Doing something different: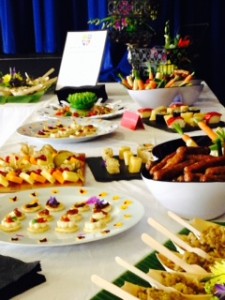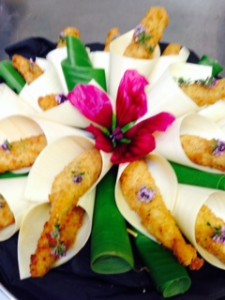 For Speech day all the staff were involved in a different creative style of cooking and it was interesting to see this side of their abilities coming out and a sense of pride and achievement that they evidently felt with these goodies they helped to create. 
  Comments from parents:
"The food on Speech Day was simply fantastic. So beautifully presented and it tasted like something from a restaurant. It really added to the sense of occasion and was utterly delicious." Rachael Mathews
"2014 Speech Day at Chesham Prep was very significant for us, as it was our last.  Our youngest had finally outgrown her prep school and was heading off to secondary school.  So it was a beautiful and emotional morning with many prizes given and heartfelt speeches made. It was so lovely to wander into the hall afterwards, to see such a wonderful display of culinary delights awaiting us. The catering team had obviously put a lot of effort into the presentation of the mouth-watering canapes, which we could easily access due to the clever layout.  We were treated to handy mouth size savouries – chicken, beef, prawn, salmon, and vegetarian, on blinis. They were all appreciated very enthusiastically and we parents were very impressed.  We could see that a lot of thought and care had gone into making our delicious refreshments.
Thank you."  Julie Carden
"The canapes at parents day were a feast for the eyes as well as the tummy. Such a change from sandwiches. A tasty variety and the dessert plates were a real treat for a sweet nut like me. Thanks for all the hard work." Sharon Lewin
"The food was completely amazing at Chesham Prep's speech day this year. Michele and her team really treated us all with so many wonderful dishes which were beautifully presented and of such a deliciously high standard. I lost count of how many times I went back for more sushi – not to mention the chocolates!" Jakki Harriman-Matthews