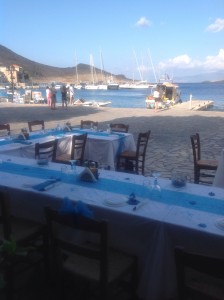 Weddings these days! You can get married almost anywhere in the world, but alas some are so commercially driven that they lack the personal touch, others are so very stressed and fraught with trying to make things unnaturally perfect. Grace and Jack's wedding appeared to be so very natural and a calm affair. As we say in my family "in Greek time" – a more relaxed and slower pace of life. I am sure there were a few mixed emotions of excitement and a touch of nerves but Greek Time gives the opportunity to make the very best of a special day and to savour every precious moment, where treasured times can move in slow motion and remain that way in your memory forever. Halki was their choice; a perfect island known as the island of peace and friendship. It's like no other Greek Island I have ever experienced; unspoiled and with Italian influenced buildings, glorious rugged beauty seen in the mountain tops and it's beautiful turquoise clear blue waters. All this and peopled with international holiday makers – British, Greek Americans, Italians, French and more. To start Grace and Jack's celebrations the children of Halki in full traditional costume danced for the newlyweds in Valantis's Taverna while the guests sipped champagne.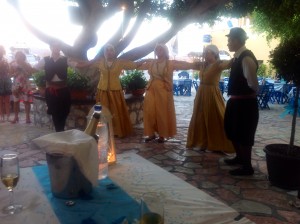 The wedding breakfast was created from Valantis's extensive menu: Greek salad consisting of cucumber, tomato, sweet onion, oregano and delicious Feta cheese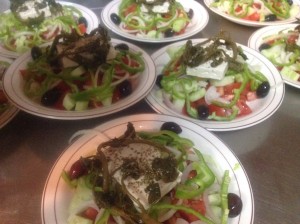 Dimitri's special village bread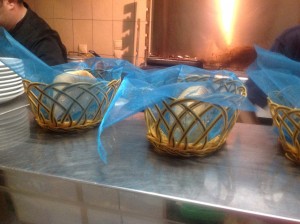 Crab salad (a traditional island favourite) with extra special ingredients created by Livanio,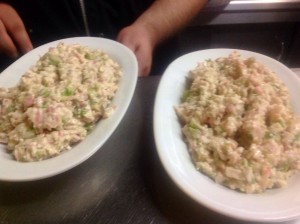 calamari tempura perfectly cooked by Livanio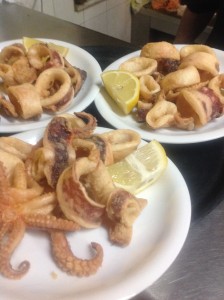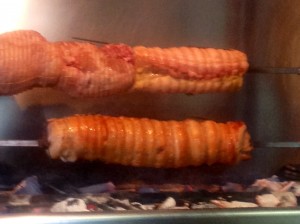 and a choice of meats cooked on the spit by Valantis, real melt in your mouth moments Spit roast lamb Spit roast Pork Chicken souvlaki All served with salad roast potatoes.
To end the meal perfectly was a Wedding Cake by Theodosia, a family run business opened in Halki in 1999 producing some of the best patisseries I have ever tasted. Theodosias also make their own ice cream and sorbet. They created an elegant and simple naturalistic looking cake, yet inside this beautiful cake was an incredibly sophisticated masterpiece that only could be created by a person with great skill. A Genoese sponge layered with a very light creamy mousse, truly a taste sensation and a moment of pleasure not easily forgotten.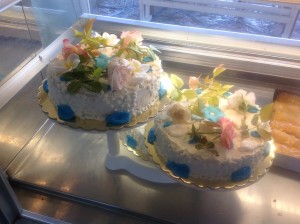 My thanks to Grace, Jack and mother of the bride Mary for allowing me to write about their daughter's wedding Breakfast. To Valantis Grill for allowing me to be a part of their team that day and for Valantis and Livanio for teaching me some amazing Greek cooking.